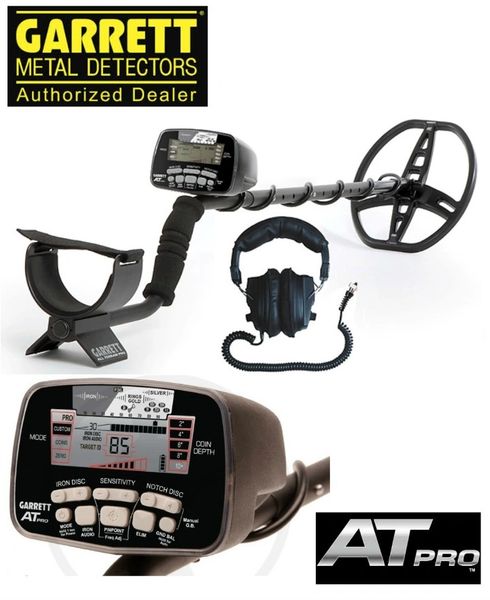 AT PRO
AT Pro by Garrett
SKU: 1140460

Includes the AT PRO Metal Detector with 8.5" x 11" DD Searchcoil used on the Hit TV Show "Diggers" on Nat Geo, Garrett Master Sound Headphones and an Instructional DVD...
The AT PRO all-terrain detector offers new and exclusive Garrett technology that makes it ideal for hunting coins, relics, caches, jewelry, and even gold nuggets. Select from either Standard or Professional search modes with enhanced audio features.
The AT Pro is engineered with a waterproof housing and connectors to protect in dusty, muddy, wet and humid environments. The AT Pro can be immersed in water to a 10-foot depth (maximum) to search in and along shorelines, rivers, piers, docks or swimming holes, as well as all land sites from mountains to dry deserts. AT (All-Terrain) can be used anywhere on land or in water.
Key Features
Pro Mode Audio™:

Proportional Audio and Tone Roll Audio™ features allow the user to hear characteristics of a target as they would in a True All-Metal Mode.

High-Res Iron Discrimination™:

Use touchpads to set iron discrimination in
one of 40 levels for precise ability to separate good targets from trash.

Digital Target ID:

0 to 99 Target ID scale offers increased ability to distinguish
one target's conductivity from another.

Iron Audio™:

Allows the user to hear discriminated iron and to alter the detector's mid-tone signal's range

Fast Recovery Speed:

Allows greater ability to pick out good targets amongst trash

All Terrain Versatility:

Weatherproof housing designed for dusty, humid or wet
environments; unit can be submerged to a maximum 10-foot depth.

15 kHz frequency:

improved detection of small targets, gold nuggets, jewelry

Ground Balance:

automatic and manually adjustable for improved
performance

Graphic Target Analyzer™ (GTA):

identifies target's conductivity

Continuous Coin Depth Indicator:

to determine target depth

Battery Condition Indicator:

shows battery life continually
Return To Garrett Metal Detectors

Accessories