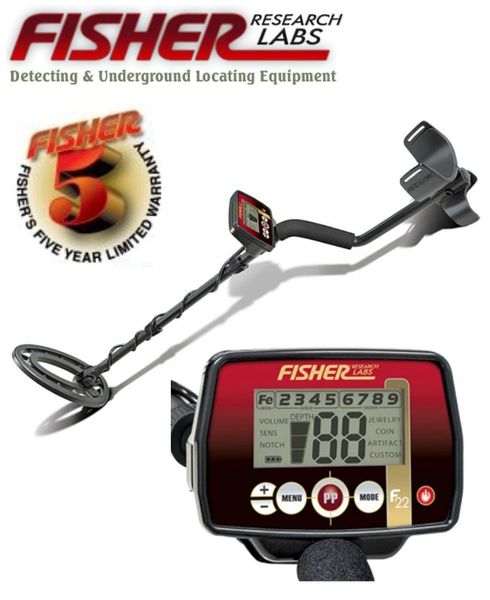 Fisher F22
F22 by Fisher
Metal Detector
SKU: F22
The F22 has a 9" search coil that is weatherproof. This means you can take your search to the beach or even when it's raining without the fear of it getting wet. The search coil's concentric design plus its sensitivity make it a valuable search tool with a good depth.

The 9-Segment Visual and Numerical Target ID helps you identify what is beneath the surface before you start digging. Its large, 2 digit display has a target ID range of between 1 to 99. This, accompanied by its four mode search ability, gives you a great chance to find whatever it is you are looking for. The 4 modes are artifact, jewelry, coin, and custom.

The Fisher F22 weatherproof Metal Detector is lightweight, weighing in at just 2.3 pounds. Its power source is also light, requiring only 2 AA batteries to function. This allows for comfortable handling of the detector.


KEY FEATURES:
Visual Target-ID by Category

Weatherproof

Operates on 2 AA Batteries (25-30 Hours)

Fe-Tone (Adjustable Iron Audio)

Iron Identifier Icon

9-Segment Visual Target-ID

Large 2-Digit, 1-99 Numeric Target-ID

4 Modes of Operation: Jewelry, Coin, Artifact Custom

Pinpoint

10 Levels of Adjustable Sensitivity

20 Levels of Adjustable Volume

4-Tone Audio-ID

Non-Volatile Memory Saves Settings

9-Inch Concentric Elliptical Waterproof Search Coil

Ultra-lightweight – Only 2.3 lbs. Operational Weight

7.69 kHz. Operating Frequency

Recommended for:
Inclement Weather Hunting
Beach Hunting
Coin Shooting
Jewelry Hunting
Relic Hunting
Return To Fisher Metal Detectors


Accessories